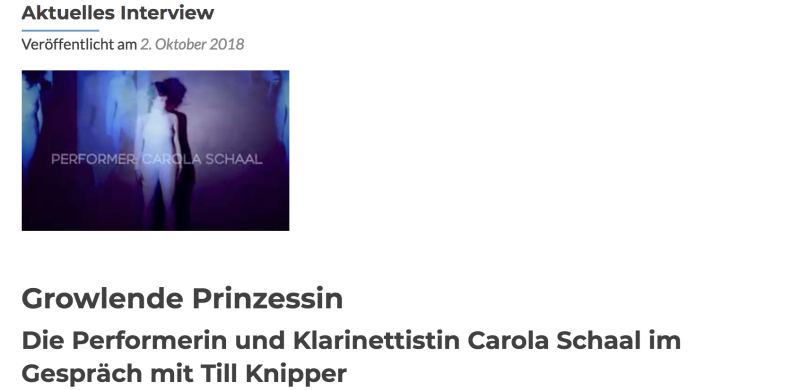 Growling Princess
The performer and clarinetist Carola Schaal in conversation with Till Knipper 
(NZfM.5.2018)
Translation Liz Hirst

Carola Schaal is a clarinetist by trade, but in her solo programmes or as part of the Decoder Ensemble she also performs in works with a strong performative character, such as the scenically expanded music encountered again and again at this year's"Darmstädter Ferienkurse"(Darmstadt Summer Courses for New Music): a good opportunity to talk to her on location about concerts with a scenic framework, about questions concerning the meaning of music and about new projects.

Today the Darmstadt Summer Courses 2018 come to an end. Have you discovered something new for yourself? 
Of course. Music is opening up in general at the moment and you can see this in Darmstadt as well. This year I was most touched by performative presentations, such as the 1:1 Treatment from Natacha Diels in the Oettinger Villa, as part of the consummate Nadar Ensemble's Project " OurEars". I also found the "Tarzan" Project from God's Entertainment to be - from a theatrical perspective- shrewd and persistent in their obvious, collective thieving of many elements.
Have you been here before?
Yes, and in 2012 I acquired a catalyst significant for me today: more precisely, 
the first conflicts with my instrument. In 2012 Simon Steen-Andersen's "Black Box Music" was performed here in Darmstadt, and for the first time ever I asked myself: Why should I unpack my instrument? Why should the musicians play live on the stage when it could have been recorded? I wasn't angry, but I became genuinely alarmed and worried about my own future. I no longer comprehended the ensemble's relevance within this performance. The visuals were extremely vivid. The musicians played dispersed throughout the room, but had no relevance: they could have been mere loudspeakers, standing on chairs. But I am indebted to Simon because it stimulated me preposterously! 
 
What was the impact of this crisis?
A little later, I was preparing (together with Leopold Hurt) "Letter Piece No. 5 " (2008) by Matthew Shlomowitz, and, for the first time, I realized that I was bubbling over with performative ideas - and that music in the combination of movement and sound had relevance for me. In 2014, "Sensate Focus " by Alexander Schubert was again such a work, combining both levels successfully. Specifically, Matthew's play is also neat in that it has an additional comic plane. I have liked open scores ever since, because of the responsibility I can take. And that pleases me.
Today, not only do responsibilities move from composer to performer but also curation by festival directors demands new artistic responsibilities, doesn't it? 
Yes, and there are two sides to that. On the one hand, there are more spaces opening up for performative projects. At the Ultima Festival in Oslo, I will be playing the world premiere of Alexander Schubert's "Control" with the Decoder Ensemble. This is a predominantly performative work, such as would have been inconceivable at a purely musical festival just a few years ago, and it also concerns itself with conceptual-curatorial proceedings. On the other hand, however, I have difficulties with almost every festival now requiring a motto.
Does a motto restrict artistic freedom? 
Sadly, yes. It is exhausting and has something contrived about it.
Why not simply engage actors to perform? What is the advantage of using musicians?
Understandably, we often have a very good feeling for form and timing. I see this of course as advantageous. Nevertheless, it remains indispensable that we musicians always work with an outside person, because we are not actors: we need a guiding hand; for Oslo, therefore, we have the choreographer Heinrich Horwitz with us, with whom we often collaborate.
Looking back: what steps lead up to your 2012 experiences in Darmstadt?
Of course, I completed a degree in classical clarinet in Hamburg, but throughout my studies, I was unsettled, restless and unsatisfied: Is this supposed to be everything? The most memorable instances I retain from my education were impressions from acting and composition classes, and particularly the multimedia composition department. I not only wanted to reproduce but also to participate creatively. I found it liberating to experience how acting classes work. There I had the feeling that a mirror was being held before me.
Nevertheless, you still play classical music today.
Absolutely. I can't and won´t be without it! But I became weary of having to play classical and romantic works in one way or the other and referring to source recordings. For a while, I didn't play any classical music at all.  I leaped hook, line, and sinker into the New Music swimming pool, swimming with euphoria and contentment, whilst improving my playing techniques, visiting Ernesto Molinari or the Ensemble Recherche Academy. And then, at some point, the need for pure clarinet playing, for sustained melodious sound, returned. Contrary to the opinion of many instrumentalists that New Music spoils the embouchure - baloney - I took the liberty of performing older works with modern playing techniques. Naturally, I use circular
breathing for Mozart's Clarinet Concerto- and if he were alive today, he would have been delighted. I have freed myself from all the commandments regulating the performance of this and that, or of how to construct a cadenza. 
Do you have a favorite piece for clarinet?
CurrentIy, I take particular enjoyment in satisfying my need for timbral clarinet with Olivier Messiaen's "Quatuor pour la fin du temps" (1940/41), which I will be performing again and again in the next few years. My version, however, does not feature four musicians appearing onstage to applause and seating themselves; the little bird beginning to chirp; then ending with the heavenly flageolet of the violin, followed by applause: I don't want that. I am work in collaboration with the overhead projection artist Katrin Bethge; I have had clothes tailor-made so that we musicians may sit onstage within the set, serving as projection surfaces. I have created an atmosphere in which we enter the hall without applause, the audience quietens and the music emerges from silence - and not from clapping and being seated. In the end, the projection runs for a few more minutes with only minimal fluctuation, depending on the room and atmosphere, until each individual has heard the sound cease. I like to provide works with an adequate setting: my concern is the whole. I think this quartet demands such a scope.  
Music is more than sound.
I´d endorse that without hesitation.
Is the age of purely instrumental music over?
Absolutely over, certainly not. There is an increasing urge - and I also hear this from other interpreters- to take on more responsibility: cross-disciplinary, artistic collaboration is, therefore, a strong focal point. One provides input and wishes to be reflected in what emerges. When I ask composers to write something for me as a person or as a clarinetist, I tell them that there has to be a damn good reason for me to unpack my instrument. I have a highly ambivalent relationship to the compulsory use of the instrument because in extraordinarily innumerable instances I simply see an artificial relevance or none whatsoever.
The question of the interpreters' personal responsibility arose half a century ago. Are we in another revival of that period?
Yes, but on a fundamentally different level. At that time, rationality was at the forefront. That is splintering at the moment. This can be observed in works such as Martin Schüttler's "My mother was a piano teacher (...)", premiered at the Donaueschingen Music Days 2017. The authentically experienced, agonizing moments of musical education are suddenly onstage.
New music seeks its social relevance. Is Performance a way out? 
The Decoder Ensemble currently has its own concert series "Below Deck" (orig." Unterdeck") in the Elb Philharmonic ("Elbphilharmonie",Hamburg), where all our concerts are scenically staged and the content related. This is something different from a conventional concert with four, five pieces with different aesthetics. That's nice, but over and done with. With our concert series, we are in a fortunate position because so far people simply wanted a ticket for the Elb Philharmonic - and the tickets always sold out in a flash. They had no idea what they were in for [she grins]. So, up until now, the first three evenings (created by Brigitta Muntendorf, Nora Gomringer, and Simon Steen-Andersen), were attended by an almost completely non-specialist public. The responses ranged mostly - I'm getting goosebumps - from enormous gratitude to tears. Yes, it works: we only performed works that were at most ten years old, so it just communicates itself straight away.
Does it involve a lot of effort to present a staged concert?
It's an unbelievably huge effort. It's important that the staging creates a guiding thread, that it conveys a theme, through which one is caught up, diverted or sometimes even disturbed. An all-encompassing moment has to occur. Incidentally, for my new solo project "Bonny Crude" I decided to program one of my own pieces plus works by three existing composers who I personally know well: Brigitta Muntendorf, Andrej Koroliov, and Alexander Schubert. 
You emphasize interpersonal "wiring": Does one need it? 
Yes, because in artistic cooperation we should reflect each other. It's about trust. Concerning the staging of "Bonny Crude", I work with the choreographer Heinrich Horwitz, to whom my "wiring" is finely threaded.  The voice is used in all works in a myriad of forms, but I only appear as a clarinetist for seven minutes. Brigitta was the first to send me onstage in 2017 in her piece "#AsPresentAsPossible" without an instrument; the first who believed that I could perform a 17-minute piece without my instrument. I felt immensely trusted. 
What exactly happens in the work? There´s a picture of one scene on the advertising for the Donaueschingen Music Days.
Brigitta's piece is about the relationship between reality and fiction, presence and visibility. We shot scenes in advance, where I wear a white bodysuit and use the clarinet as a visual, but don't play. In the actual performance, I wear the same clothing and am screened onto myself. Sometimes it looks like I'm really playing, but this is just the film. In the live concert, I use my voice and my body.
And what do we hear?
It is actually a gradually densifying song, consisting of miniature patterns, pop elements, backed by drums and piano sounds, electronics, as well as spoken text, combined with movement. Most of the time I am duplicated via the video, communicating with myself. At the very end, I run forwards. In this way, I absorb myself, my duplicate, once again, which then becomes ever smaller. I observe myself holding my instrument. A truly tender moment
The piece is part of your new solo program "Bonny Crude". Is there an all-embracing theme?
The leitmotiv directly concerns my identity. It is about the elucidation of a female being: not only the beauty and elegance, but rather the antithesis with a certain vulgarity, depth, and the courage to be ugly - and yes, with an unmerciful emotionality. Personally, I always go with my gut first, then my mind. I hired a dressmaker and the clothes radiate a certain bluntness. I take conscious liberty, as a classical musician, to use my own body as a medium. And I don't find this trite so long as it serves the content. Over the last few years, I've noticed that I enjoy blatant transgressions enormously, as when a woman steps elegantly onto the stage and then begins to growl, which certainly doesn't make you visually any prettier. I enjoy viewing myself as a growling princess. 
A normal clarinet recital is accompanied at the very least by a piano. Are you really on your own in the Solo Program?
No. Even though I'm alone on stage, it remains a duo project with Donny Karsadi. He is a remarkable composer, but here he appears as an accomplished sound designer. By now it's established that owing to technical requirements, you work closely with a sound designer: not an engineer, but someone who works with sound artistically. From the very beginnings of Decoder, we had Alexander Schubert for sound design, lighting etc. as an integral, permanent member of the ensemble. 
In 2011, when the ensemble was founded, how did you all arrive at the idea of including him in this role as a permanent member?
Because Alex was always at the student parties or organizing them himself [she laughs]. No, it had to do with the fact that we had and have similar aesthetic ideas, and it was always important to us that we were all equal members. I work together with Alex in many different ways; for example, I took over the performative part of the Rabbit-Onesie in his work "F1 "(2016). That's exorbitantly time-consuming because video parts of the piece have to be shot in advance at the respective performance location and inserted into the work. 
At the moment you are in the midst of a new, tailor-made project with him. 
Yes, Alex calls "Acceptance " (2018) an "audiovisual piece of music for clarinet, voice, video, and performance". An essential conceptual part is video documentation which is about self-awareness. For five days, I lived outside in nature, at an altitude of 2200 meters, beside a lake with a backdrop of snow-covered mountains. In these five days, I had to build six " plus " signs, each 3 meters high, as wooden sculptures: the plus representing a double minus sign, not Christian crosses. It was supposed to be an existential borderline experience for me, both physically and mentally - and it was far beyond what I had expected. 
What happened?
Almost all of the time, there was a cameraman nearby recording everything. I ignored him and soon forgot that he was there. I had to drag the necessary wooden beams for miles and assemble them on site without electrical equipment: notch the interlocking of the beams with chisels, saw them to size and, using a hand drill, drill a large hole through both beams for the wooden nail. Finally, it took a deep hole in the stony ground to erect the sculpture. Ultimately, I managed to build all six sculptures around the lake. 
Why a setting involving manual labor?
Alex prescribed this and he knows that I have talent and am experienced in this area. But the plus signs have no artistic aspiration; they are the means to arrive at one's breaking point. It deals with reflection and overcoming grief; for example, with losing someone, because he dies or changes his perspective. And naturally, when you work,  so alone, an abundance of emotions surface. Of course, overcoming grief also offers the potential to create something beautiful: One has to learn to accept. 
And you didn´t speak in five days? 
I have never been silent for five days, an extreme but positive experience. Alone in the mountains, I cried and laughed an insane amount. A lot of emotions surfaced and I threw them into the heart of the lake. It was prodigious for me to observe how lovingly I dealt with myself whilst experiencing my physical limits. When you are alone, you reflect upon it quite differently.
Did loneliness bring you closer to people? 
Consummately close. This was a surprise and I didn't feel alone for a second. In nature one is never alone. A sunset's beauty was so overwhelming that my legs couldn´t hold me. Indisputedly, this was also due to exhaustion, but I haven't sensed such a palpable feeling in a long time. Mind you, when one is continuously paralyzed, there are also moments when one has no desire whatsoever to face oneself. I lost control twice. I was drained, the beams didn't want to interlock, I couldn't hold the saw with my raw hands anymore. I started to howl, blasted things away, smashed a tool. I couldn't take any more. I was absolutely no longer aware of any audio and video recordings, and now I'm afraid to watch myself become unhinged. But I promised in advance that anything of relevance could be used. It certainly does take courage to be ugly.
The shoot was a few weeks ago. You haven't seen the film yet? 
No, I don't want to see anything yet. The film is currently being edited and will be silent, just as I was in the mountains. It involves the emotions not being guided as they would be in a role. It's just me, those are authentic emotions bubbling out of me. Alex knows and knew that my emotional matrix is extremely pronounced, putting it mildly.  What then happens in the film is me, as Live-3D-Carola. I am present linguistically, sonically and musically. There will be some explanatory narration: I'll relate what I went through. 
So: artistic documentation of powerful self-discovery? 
Yes, indeed, you could say so. As with all of Alex's affairs, it's a risky approach. It's possible that the pictures won´t impart any of these emotions at all during the Premiére (on October 4th, 2018 in Strasbourg). But the precise opposite is likewise possible.